CNNMoney | Matt Egan | January 3, 2018
The United States is poised to ramp up crude oil production by 10% in 2018 to about 11 million barrels per day, according to research firm Rystad Energy.
Surging shale oil output should allow the United States to dethrone Russia and Saudi Arabia as the planet's leading crude oil producer, Rystad predicted in a recent report. The U.S. hasn't been the global leader, nor ahead of both Russia and Saudi Arabia, since 1975.
"The market has completely changed due to the U.S. shale machine," said Nadia Martin Wiggen, Rystad's vice president of markets.
The prediction shows how the fracking revolution has turned America into an energy powerhouse -- a transformation that President Trump has vowed to accelerate by cutting regulation. This long-term shift has allowed the U.S. to be less reliant on foreign oil, including from the turbulent Middle East.
U.S. oil production slipped -- but didn't completely collapse -- after Saudi-led OPEC launched a price war in late 2015 aimed at reclaiming market share lost to shale and other players. A massive supply glut caused crude to crash from around $100 a barrel to a low of $26.
Cheap prices forced shale companies in Texas, North Dakota and elsewhere to dial back. Domestic output bottomed at 8.55 million barrels per day in September 2016, down 11% from the recent peak in April 2015, according to the U.S. Energy Information Administration.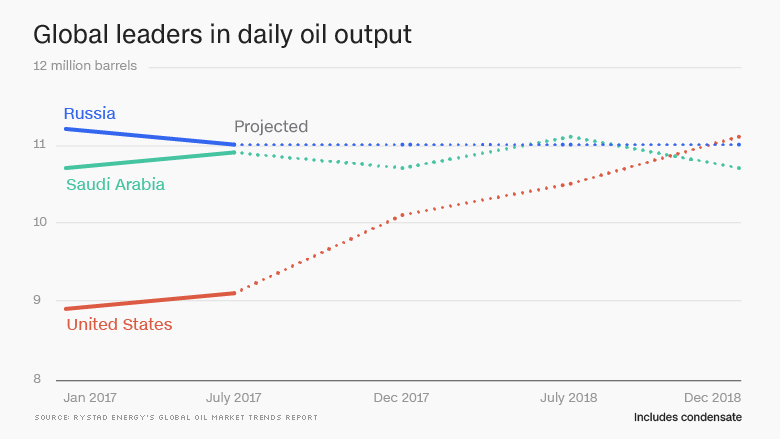 But the resilient oil industry, led by the shale hotbed of the Permian Basin of Western Texas, rebounded nicely last year. The comeback was driven by higher crude prices as well as new technology that makes it cheaper and easier to frack.
The EIA recently forecasted that U.S. crude oil production would jump to an average of 10 million barrels per day in 2018. That would take out the previous annual record of 9.6 million barrels set in 1970.
Read the full story here.