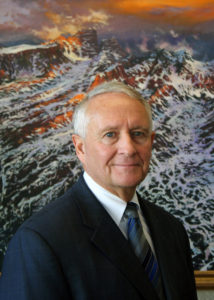 For Immediate Release: Monday, February 4, 2019
Contact:  Nicolette Nye, (202) 465-8463, nicolette@nullnoia.org
NOIA Applauds Nomination of David Bernhardt as Next Interior Secretary
 Washington, D.C. – National Ocean Industries Association President Randall Luthi today issued the following statement regarding the nomination of David Bernhardt as Secretary of the Interior:
"NOIA applauds the nomination of David Bernhardt to be the next Secretary of the Department of the Interior (DOI).  Having served as Acting Secretary since January, as Deputy Secretary since July of 2017, and formerly as Solicitor, Bernhardt possesses an impressive depth of experience at the Department and knowledge of Interior issues. His selection as Secretary will assure that important energy and conservation policies will not miss a beat in the transition.
"Bernhardt understands that conservation and enhancement of natural resources can and does occur in conjunction with development of natural resources for energy – both on and offshore.  Currently, almost 20 percent of America's domestically-produced oil and natural gas comes from the outer continental shelf, and the offshore oil and gas industry is the second highest contributor to federal coffers, next to income taxes. In addition, America's rapidly growing offshore wind industry will further strengthen our nation's energy and economic security.
"As Deputy Interior Secretary, Bernhardt has been through the confirmation process once before, and he has taken the necessary steps to be transparent about his former clients and potential conflicts – including the National Ocean Industries Association (NOIA). We look forward to working with the Department under the leadership of Secretary Bernhardt and we urge the Department to promptly move forward with a National Offshore Leasing Program that provides increased access to valuable offshore oil and natural gas resources, and to also encourage the continued growth of America's emerging offshore wind industry by developing a reliable and consistent schedule of future offshore wind lease sales."
###
ABOUT NOIA
NOIA is the only national trade association representing all segments of the offshore industry with an interest in the exploration and production of both traditional and renewable energy resources on the nation's outer continental shelf.  NOIA's mission is to secure reliable access and a fair regulatory and economic environment for the companies that develop the nation's valuable offshore energy resources in an environmentally responsible manner. The NOIA membership comprises about 250 companies engaged in business activities ranging from producing to drilling, engineering to marine and air transport, offshore construction to equipment manufacture and supply, telecommunications to finance and insurance, and renewable energy.