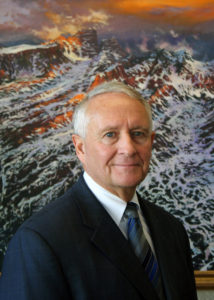 For Immediate Release: Wednesday, March 20, 2019
Contact:  Nicolette Nye, (202) 465-8463, nnye@nullnoia.org
NOIA Statement on Gulf of Mexico Lease Sale 252
 Washington, D.C. – National Ocean Industries Association (NOIA) President Randall Luthi issued the following statement regarding today's Gulf of Mexico Lease Sale 252:
"Gulf of Mexico Lease Sale 252 allowed the Federal government to check the temperature of the offshore industry in the U.S. Gulf of Mexico in the face of the slow pace of recovering commodity prices.  Lease Sale 252 not only reflects the relatively stable oil prices, but also the efforts by the overall industry to cut costs. Much of the cost cutting has drastically affected service companies, as their profit margin remains thin or non-existent. However, the trajectory of this and the past few sales shows stability and helps establish a new normal for the U.S. offshore industry. Companies continue to shore up existing development operations (in both shallow and deep water) in known geologic areas, but are not yet ready for heavy investment in truly new deepwater projects.
"While today's sale shows that the Gulf of Mexico is still a fundamental basin for energy production and economic growth for the U.S., it also underscores that the Gulf of Mexico is still the ONLY offshore basin available in the U.S. in which U.S. companies may bid. As the global offshore energy recovery heats up, the U.S. must recognize that we are not the only player at the offshore table. Other basins in the Western Hemisphere, including Guyana, Brazil and Mexico (not to mention onshore U.S. production) have become magnets for investment dollars. Part I of a recent IHS Markit report confirms that our current federal fiscal structure has rendered the rate of return for U.S. offshore projects, particularly in deepwater areas, less attractive than rates of return in other regions. Policymakers should take note and find new ways to attract and retain global investment dollars in the U.S. Gulf of Mexico, an area that has a long history as the gold standard of offshore energy production."
ABOUT NOIA
NOIA is the only national trade association representing all segments of the offshore industry with an interest in the exploration and production of both traditional and renewable energy resources on the nation's outer continental shelf.  NOIA's mission is to secure reliable access and a fair regulatory and economic environment for the companies that develop the nation's valuable offshore energy resources in an environmentally responsible manner. The NOIA membership comprises about 250 companies engaged in business activities ranging from producing to drilling, engineering to marine and air transport, offshore construction to equipment manufacture and supply, telecommunications to finance and insurance, and renewable energy.